The Figaro!
Have devised new life plan:
1. Get driving license
2. Buy NISSAN FIGARO*
3. Obtain Alan Rickman-voiced GPS**

* I have never been smitten or even semi-interested in cars until I saw this baby zooming its little heart out all over London. The Figaro was a limited-edition 2-door designed by Shoji Takahashi and released by niche arm of Nissan in Japan in 1989 - under the slogan "Back to the Future" (the levels of rad just keep on piling up). Conceived as a kind of British, vintage coupe throwback, I actually assumed it was a late '60s model at first: but it backs up the retro stylings with AC, white leather seats, CD player and an open roof. The words hells and yeah spring to mind. According to the Googles, only four colours were produced: Topaz Mist, Emerald Green, Pale Aqua and Lapis Grey - each symbolising a season of the year (I mentioned it was made in Japan, right?)
For those of you interested, I also came across this super weird Japanese "making of" video. From the dude in Wayfarers to the weird '90s synth music, I kinda feel like I'm watching a hipster Mr Sparkle. One day I plan to write a novel about what I think is actually going on.
Anyway, I have a metric ton of sweet love for The Figaro...pity it's not a metric ton of cash. EXAGGERATED SIGH.
**This actually exists you guys!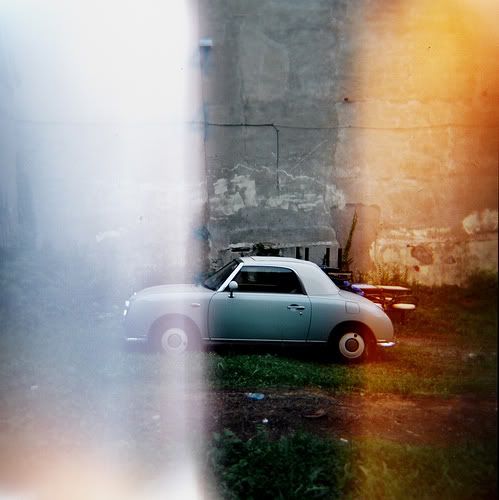 More infos on Le Figaro at the Wikis.
Top pic: paul (england) on Flickr
Bottom pic: Charles Briand on Flickr