Hello, Kat
Anyone who knows me or reads this blog knows that Kat Macleod is possibly my favourite artist ever. She has always had a certain mystery about her – not a spotlight celebrity in any way... in fact, when I was researching her as a possible candidate for the YEN Young Woman of the Year Awards, the google-results were less than revealing.

So imagine my squeals of delight when I found that The Age had written an article on the lovely and talented Kat – and that she had her first solo exhibition at Lamington Drive (which I missed, and still crying salty bitter tears into my pillow at night because of it…(also if you're not subscribed to the jacky winter newsletter do it right now, it's funny and full of arty goodness, ooh a double parentheses, I am getting tricky)) – and that the interwebs have slowly, slowly been shining a little light on the artist.

I look away for two minutes! Now it seems everyone is catching on to Kat's awesomeness. And despite my indie cred, I can't help but feel happy that other people are getting to share Kat's beautiful, inspiring art.

So I thought I'd share a few finds with you.
An AMAZING video of Kat's process for anyone who's ever been interested in how she puts her gorgeous ladies together


Kat Macleod's Process from Jacky Winter on Vimeo.


Photos of Kat Macleod at work in her graphic design studio Ortolan, thanks to The Age, Word of Blog and Real Living magazine.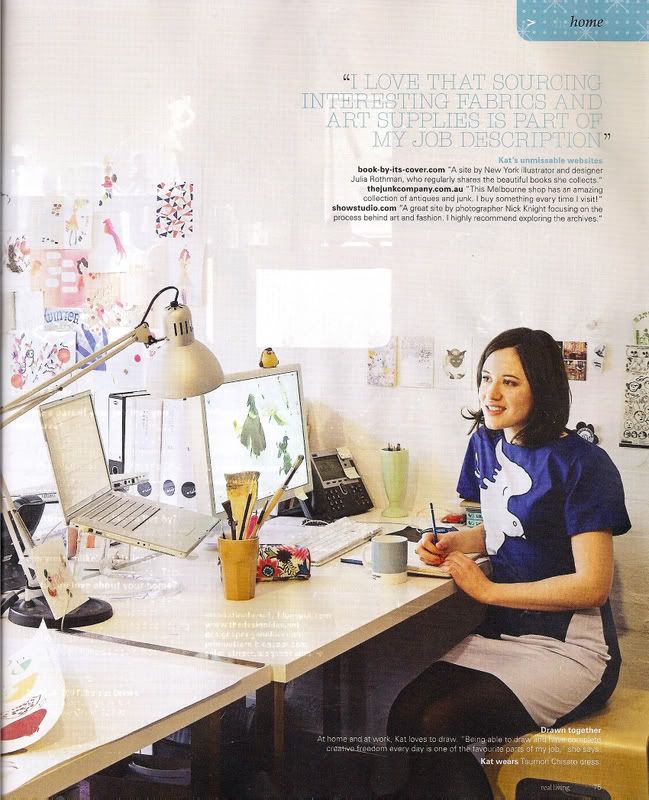 Another interview with Kat at The Design Files.
Enjoy!