Now reading...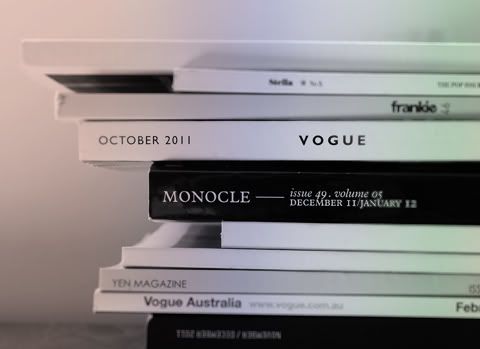 Major perks of two consecutive summers? SUMMER READING! Being in semi-permanent summer mode has meant one massive indulgence when it comes to my reading list. As well as the many, many novels I've been catching up on, I've also amassed a sweet little collection of magazines, perfect for lazy beach afternoons, train rides, flights, Sunday picnics…
I was even forced to abandon 5kg of my reading materials when I left the UK: "light" reading, they are not. Le sigh.
Among them I've been really digging Monocle. I've found myself increasingly aligned with more meaningful, informed, slower and thoughtful aspects of my own life, and it's probably a reflection of this that Monocle has become a frequent read. I'd been aware of it for a while, but it wasn't until I was in London – where the global publication is based – that I found myself really starting to get it. In all senses of the phrase.
Don't be put off by the label "current affairs": it sounds dad-ish and dull, but Monocle really isn't. It's smart, witty, engaged and slick as hell. With Madmen-era graphics and a pool of creative talent around the globe, there's something reassuringly weighty and switched on and old-school about the publication, without being fussy or stuck in the past. I LOVE that they have global, on-the-ground correspondents. JUST GLANCE AT THE CONTRIBUTOR'S LIST. GLANCE!
I picture the massive Monocle team with analogue cameras, Moleskine reporter's notebooks, leather briefcases and macbooks and iPhones, jaunting around the world in search of the newsworthy and the awesome.
Monocle also have one thing lacking in many publications: imagination. As well as exploring the issues/ problems/ challenges facing the world, they actively offer creative solutions, ideas and expertise in response. If you haven't already, definitely worth adding to your summer reading list.