Perfume review Part I: Chloé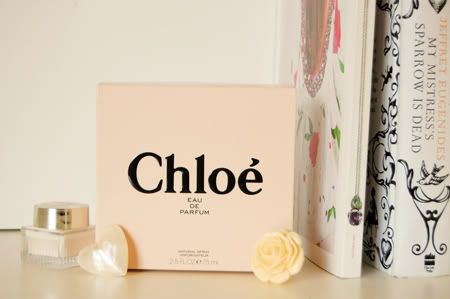 What they say: "This scent captures the creative, confident individuality of a free spirited women with an utterly innate sense of chic and natural sexiness. The fragrance playfully twists notions of femininity, taking the classic beautiful rose and translating it with modernity into a vibrant, powdery floral eau de parfum. It is translucent, turning warm and seductive, totally addictive. Fresh green airy notes subtly grow richer and more sensual revealing the velvety interior of the rose. The base notes of warm amber, honey and elegant cedar wood create a smooth and comforting finish."

Soundtrack: Downtown : Peaches
Let's make love and listen to death from above : CSS




The girls: Clémence Poésy, ( I love looking at your name, though I have NO CLUE how to pronounce it), Anja Rubik & Chloë Sevigny. It appears being a) blonde and b) having a name with umlauts or other diacritical marks is necessary to be a "Chloé girl". Being inept on both counts is slightly discouraging.

I say: There's a pleasing symmetry to the bottle: the rippled cube is perfect for the geometrically inclined, but saved from masculinity by a cute-as-a-button (or should that be cute-as-a-bow? Buttons aren't actually that cute, though this is debatable… but I digress) ribbon in that perfect shade of Chloe pinky-beige. Would look at home amid powdery boudoirs, seamed silk stockings and fancy pink-iced cakes.

Don't let "classic rose" put you off: scent is girlie without being at all nana-ish (not that nanas aren't awesome. We could all learn a lot from nanas, they know what they're doing, particularly re: how and when to take afternoon naps & the secret art of having fresh breath at ALL TIMES.)

Chloe is sexy. In a vintage lingerie in shades of ivory, Champs-Elysées at dusk, fairy lights on ornate french doors, low summer sunshine glowing through back-lit hair, dressing tables full of treasures and concoctions, girlish high teas in frocks, insouciant kind of sexiness. Which is the best kind.