Givenchy can help you have a rad Halloween...

Yesterday I saw a wizard drinking coffee. I also ate worms in dirt. There was some major cape action. Halloween can be pretty awesome.

Thinking of costume ideas is harder than it sounds, however. I was having a hard time coming up with a costume that was a) not lame, b) not clichéd, c) not male and d) not blonde. I wanted scary, but cute scary. So I googled, putting in vague phrases which turned up very little inspiration until those little gems "goth ballerina"… and up sprang the Givenchy haute couture Spring 2008 collection. Black, white, splashes of red, frothy skirts and ballet-inspired shoes….it was the perfect combo and inspiration!

The inspiration:
Givenchy couture Spring 2008 from Style.com

The b-grade rip off: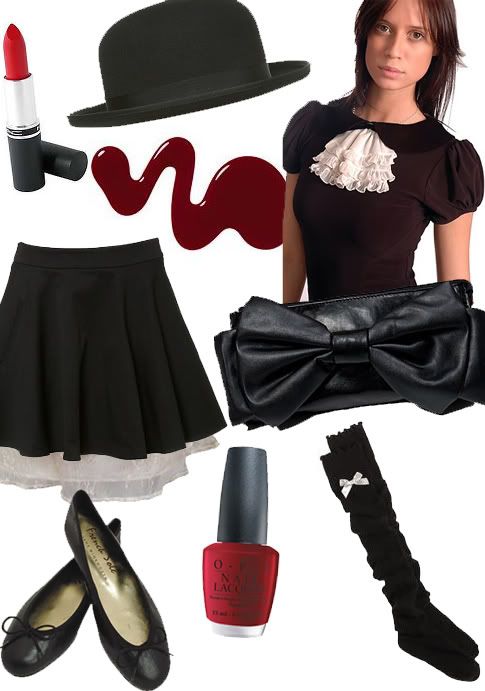 Nailpolish, OPI
Smart girl ruffle top, Wheels and Doll Baby from My Catwalk
Indy C bow clutch bag, BirdMotel
Bowler hat, Topshop
Skirt, Topshop (worn with tulle petticoat)
Ballet flats, French Sole
Bow socks, AE
Lipstick, Ruby Woo from MAC

Dark, check. Cute, hells yeah! File under "things we can learn from Givenchy" and "Halloween costumes". Hope you had a happy Halloween too! What did you dress up as?