Book Review: My Mistress's Sparrow is Dead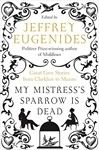 We all know love is very nice. It's all you need, money can't buy it, and other Beatles lyrics. But love in literature? More specifically, love in the short story? Is it nice? Or is it a demoralizing, unforgivably prosaic affair? If you ask Jeffrey Eugenides, he of the gorgeous Virgin Suicides and the other one that would be equally as popular if only Sofia Coppola would make a film about it, it's pretty much 30/70. That is, if you take his anthology of short stories, My Mistress's Sparrow is Dead as evidence.

Dead birds aren't very nice. You know it, I know it. Big Jeff knows it. But the cover is: all dreamy hearts and flowers. Very pretty and Hallmarkian. (Hey I just invented a word!) It's this mix of ethereal sweetness, and something darker and more real, that makes love (and love stories) so friggen interesting. There's no saccharine sentiment to speak of in this book. There's something much darker brewing in these 26 short stories.

That's not to say this book isn't filled with lyricism and insight – it is – or it lacks the pleasurable heart of what keeps us so endlessly enthralled with the idea and the reality of love – it doesn't – it is just that these realities are intensified by their opposite: love being thwarted, de-railed, unrequited, lost, thrown away, complicated, relegated to the world of the mundane. The hopeless romantic will, in turns, hurl this book to the corner of their room and scoop it up to see what happens next.

My picks:
Spring in Fialta, Vladimir Nabokov
First Love and Other Sorrows , Harold Brodkey.